Elizabeth Hargrave reveals Great Hornbill from the upcoming Wingspan Asia Expansion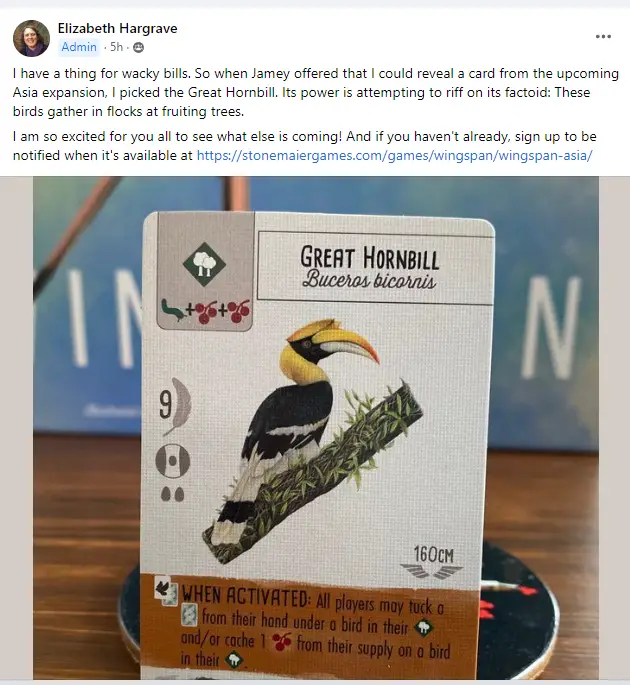 Elizabeth Hargrave, the creator of Wingspan, revealed this new Wingspan Asia Expansion card on the official Facebook group.
This is a monster of a cooperative bird. This point bomb not only comes in at nine points with a two egg nest, its power hands out points to everyone by allowing them to tuck extra cards and/or cache fruit from their supply. If anyone happens to be neglecting their Forest, they will not be able to participate in the points, as only birds in your Forest can tuck cards or cache fruit from this effect.
This adds a tactical element to this brown power. Timing its activation will be important to maximize its benefits for you and minimize its benefits for your opponents. Converting "bad" cards and excess fruit into points is the cherry on top of this high point value bird.
I've seen some people note that this power adds some value to fruit when playing with the Oceania Expansion. In the past, some have felt that fruit becomes a bit pointless in the presence of nectar. With this bird on the board, people may be much more inclined to take fruit, as nectar can't be used for Great Hornbill's effect.
Since this is a flocking bird, it becomes a massive eleven point drop in the presence of Bird Counter. Elizabeth did a great job in making this birds power thematic to its real world behavior: "These birds gather at fruiting trees and can roost in flocks of up to 200 outside breeding season."

I'd rate Great Hornbill as Tier 2 on our Wingspan Bird Card Tier List
See what we think about Wingspan Asia and the Indian Peafowl Reveal
See what we think about Wingspan Asia and the Red-Crowned Crane Reveal
See what we think about Wingspan Asia and the Green Bee-Eater Reveal
See what we think about Wingspan Asia and the Red Junglefowl Reveal
See what we think about Wingspan Asia and the Desert Finch Reveal
See what we think about Wingspan Asia and the Sri Lanka Frogmouth Reveal
See what we think about Wingspan Asia and the Asian Koel & Rose-Ringed Parakeet Reveal
See what we think about the birds revealed in the rulebook for Wingspan Asia Expansion