The Mill reveals Desert Finch from the upcoming Wingspan Asia Expansion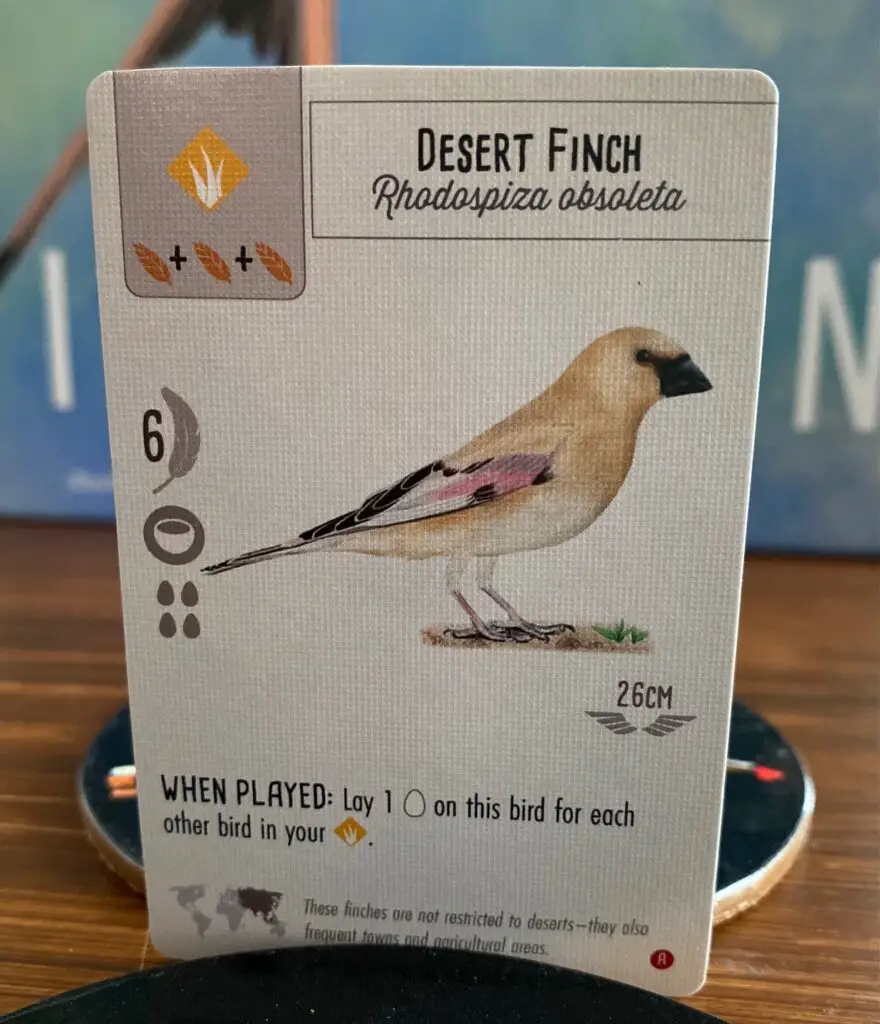 Dusty Craine at the YouTube Channel, The Mill (a channel sponsored by Stonemaier Games), revealed this new Wingspan Asia Expansion card.
Very quickly you can see that Desert Finch has one main purpose: it's a late game point bomb. If you play this as the fifth bird in your Grasslands, you will net a total of eight points. A cool feature of this bird is that it reimburses the eggs used to play it, in the same vein as core set birds such as Bobolink.
There are certainly some mid game options for this card as well. You could play Desert Finch as your second or third Grasslands bird. That would allow it to lay one or two eggs, reimbursing its own egg and maintaining the eggs needed for future bird plays, saving you a Lay Eggs Action.
Since Desert Finch doesn't count itself, you don't have the option of dropping this as the first bird in the Grasslands, picking up an egg and opening the door for your next bird without having to take the Lay Eggs Action first.  That would have been a cool option for this bird but they must have thought that was too strong.
Its food cost of three seeds, its habitat restriction to the Grasslands, and the fact that it doesn't count itself with its own power, makes this a very narrowly focused point bomb. This will be the fourth six point bird in the game that has a nest that can hold four or more eggs, so that's an interesting quality.
Prairie Manager, Cartographer, and Diet Specialist are the bonus cards you are looking to pair with this bird. It even qualifies for Breeding Manager. If your round goals include Eggs in Cup Nests or Cup Nest Birds With Eggs, Desert Finch could be a clutch play that helps you secure them.
I'd rate Desert Finch as Tier 2 on our Wingspan Bird Card Tier List
See what we think about Wingspan Asia and the Indian Peafowl Reveal
See what we think about Wingspan Asia and the Red-Crowned Crane Reveal
See what we think about Wingspan Asia and the Green Bee-Eater
See what we think about Wingspan Asia and the Red Junglefowl
See what we think about Wingspan Asia and the Great Hornbill Reveal
See what we think about Wingspan Asia and the Sri Lanka Frogmouth Reveal
See what we think about Wingspan Asia and the Asian Koel & Rose-Ringed Parakeet Reveal
See what we think about the birds revealed in the rulebook for Wingspan Asia Expansion
Wingspan Asia on Stonemaier Games Blog