Exciting News! The husband and wife team at Wingsplain have been selected as beta testers for the highly anticipated Wingspan European Expansion release on digital platforms!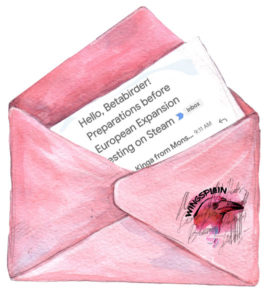 We both received our email invites this morning and our beta codes are arriving tomorrow.
The Wingspan European Expansion beta test runs from February 10th through February 15th. I know what we'll be doing this weekend!

Beta Testing Wingspan European Expansion on Steam: Initial Thoughts
Things I will be keeping an eye out for and encourage other beta testers to watch out for:
How do Great Crested Grebe and Wilson's Storm Petrol interact with birds that can be played sideways? It appears that sideways birds will not actually be sideways when played in the digital version of the game. When these birds are played, they also reserve the space next to them with an "avatar" like image. My concern is that the Grebe and Petrol will look at these as open spaces for the purposes of their card drawing powers.
Are the teal powers of Eurasian Green Woodpecker, Cetti's Warbler, and Greylag Goose being calculated accurately by the game. These birds count as double for round bonuses that count birds. May people misinterpret what goals these birds qualify for.
Wingspan European Expansion Steam Updates
We look forward to working to help make this expansion the best that it can be. If you have any ideas for things to look out for, please let us know in the comments below.
Make sure and sign up for Wingsplain News (in the sidebar on desktop – below this post on mobile) or follow our social media channels for follow-ups, upcoming news, and updates on the Wingspan European Expansion on Steam!