The official explanation for this Wingspan end-of-round goal is on page 3 of the Core Appendix.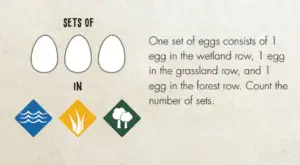 If you have:
1 egg in your Wetland row AND
1 egg in your Grasslands row AND
1 egg in your Forest row…
You have 1 set of eggs that counts for this goal.
Column positions are not relevant when determining these sets of eggs; see image below.
EXAMPLE IMAGE:
Blue Eggs = 1 Set
Purple Eggs = 1 Set
There are TWO total sets in this image.