Does The Expeditions Board Game Have Implications For Wingspan?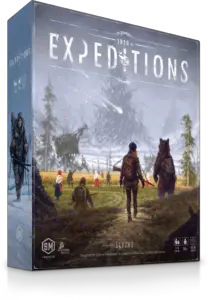 In a surprise announcement on Wednesday, February 1st, 2023, Stonemaier Games announced their Expeditions Board Game. Expeditions is described as a "competitive, card-driven, tile-exploration, engine-building sequel to Scythe." You read that right, Stonemaier Games' hit board game, Scythe, is getting a sequel. Published in August of 2016 after a successful Kickstarter campaign, Scythe went on to be Stonemaier Games' most popular title and was met with much success.
Over the years, three expansions would be released for this popular game. Since the release of Scythe's last expansion, The Rise of Fenris, Jamey Stegmaier (co-founder of Stonemaier Games and Scythe's creator) had made it clear on multiple occasions that they were done with Scythe and they did not intend to publish any more content for the game.
Enter Expeditions in 2023. According to Jamey, they have been working on Expeditions for the last three years. This is an interesting piece of information because, in the past, I have observed Jamey making the statement that he would like to revisit the world of Scythe one day but through a different game. This means that he made these statements even while Expeditions was in development. We were getting hints in plain sight and we didn't even realize it.
What does this have to do with Wingspan? Based on what we have seen with Scythe and Expeditions, I think there are major implications for our beloved bird game. One year ago, Jamey posted The 5-Year Plan For Stonemaier Games. This article is one of the occasions where he stated that he would like to explore the world of Scythe again…. and he also made a similar statement about Wingspan.
From his article:
"We'll probably lean more into what works without redundancy. I think the Azul series of games has done a great job of this—each game is unique but also familiar. I'd love to revisit the 1920+ world of Scythe someday with Jakub Rozalski, and Wingspan would be fun to explore in new ways as well with Elizabeth Hargrave."
"Lean more into what works without redundancy." With Wingspan and Scythe being Stonemaier's two most popular games, and Scythe now getting a sequel, I think it is strong evidence that we will see a Wingspan sequel at some point in the future.
We have a long way to go until we reach the end of Wingspan's lifecycle, as we just received Wingspan Asia and Jamey has stated that they like the two-year release schedule that they have settled into with Wingspan releases. With three more continents to account for, that's six more years of Wingspan as we know it.
The world could be a much different place six to eight years from now and the fate of any Wingspan sequel would ultimately rest in the hands of its creator, Elizabeth Hargrave. I wonder if we will see some type of spin-off sooner rather than later. What would that even look like? I doubt we would see a sequel to a game that they are still publishing expansions for. What do you think? Let us know in the comments.
Check out my short video where I cover the announcement of the Expeditions Board Game. Make sure to subscribe to Wingsplain Gaming for more Wingspan Board Game, Expeditions Board Game, and Stonemaier Games news.