Wingspan Jigsaw Puzzles
On May 4th, 2020, Stonemaier Games surprised us with the announcement of three Wingspan Jigsaw Puzzles! They are only available through the Stonemaier Games webstore here: Wingspan Jigsaw Puzzles.
There are currently three puzzles:
Birds of a Feather (500 pieces) "Big Colorful Birds"
Duck Duck Goose (1000 pieces) "Waterfowl"
Birds of Prey (1500 pieces) "Predator Birds"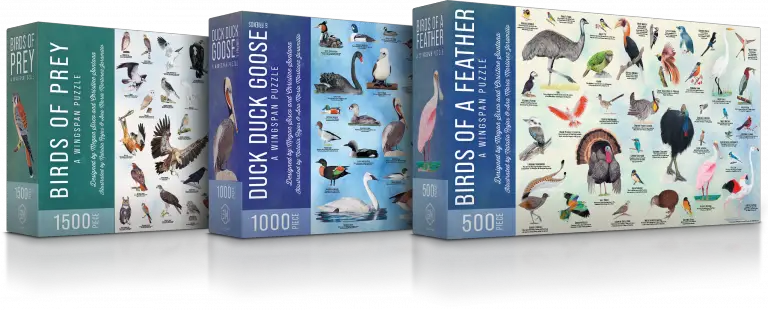 They may be available at retail in the future, depending on how well they do. Jamey Stegmaier stated that this is an experiment for Stonemaier. We at Wingsplain hope they are successful and that this leads to more Wingspan-related products! Congratulations, Stonemaier Games, on the launch of your new puzzles!
Dusty at "The Mill" has a great timelapse of him assembling Birds of a Feather and Duck Duck Goose in this video:
For more news on Wingspan Expansion 3, the Wingspan Nesting Box, Digital Wingspan Expansions, and other Wingspan-related products, bookmark our FAQ here: When will the next Wingspan Expansion be released? (Physical and Digital).